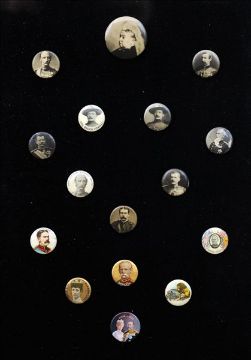 Click on the image to see full size
Use mouse wheel or two fingers to zoom in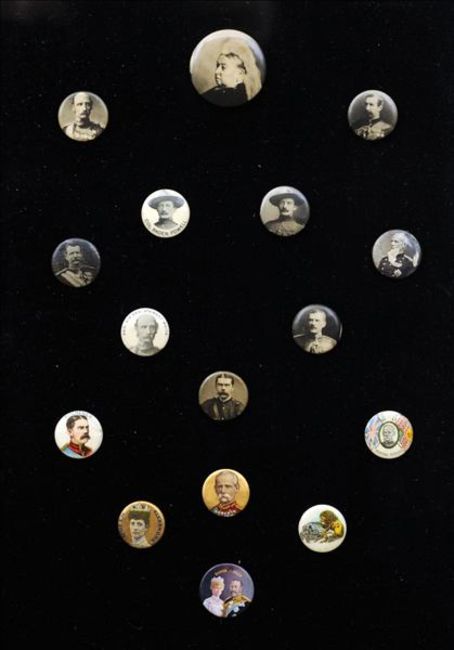 Live auction
Lot closed
Lot location
Newmarket, Suffolk
A collection of sixteen portrait badges Comprising: Queen Victoria, Colonel Baden-Powell, Sir George Stuart White, General Roberts, Kitchener, Queen Alexandra, etc., all within a common frame and glazed. 21.5 x 34 cms. Generally in good condition, expected wear, hand written partly complete key to verso.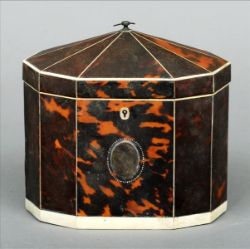 Venue address
Rowley Fine Art Ltd.
Tattersalls' Sale Ring
Newmarket, Suffolk
CB8 9AY
United Kingdom
We regret we do not provide any onsite packing services.
We highly recommend successful purchasers use the services of a reputable professional carrier for packing who will provide prompt quotations and collection from Rowley's for cartage to national and international locations.
We recommend the following:
Jentel Packing (for services across Essex, London, Suffolk, Kent, Surrey, Sussex). Telephone +44 (0) 1268 776777. Email: sales@jentelpacking.co.uk
Mail Boxes. Telephone +44 (0) 1223 361601. Email: info@mbecambridge.com
Alban Shipping. Telephone +44 (0)1582 490147.
For local carriers please contact us for details.

CONDTIONS OF BUSINESS
Buyers and Sellers are advised to read carefully the following Conditions of Business, including the explanations of cataloguing practice, that contain exclusively the terms under which Rowley's Fine Art Auctioneers and Valuers Limited conduct their sales and handle their related matters.

THIRD PARTY LIABILTY
All person on Rowley's premises at any time are their at their own risk. They shall have no claim against Rowley's in respect of any accident which may occur or injury, damage or loss howsoever caused, save insofar as the injury, damage or loss shall be caused by the negligence of Rowley's or its employees.

Tattersalls' shall not be liable for any injury, damage or loss that may be suffered by an person on Tattersalls' premises in connection with business of Rowley's save that nothing in this condition shall be taken as excluding or restricting or as attempting to exclude or restrict Tattersalls' liability for death or personal injury resulting from negligence as defined in the Unfair Contract Terms Act 1977.

CONDITIONS APPLICABLE TO BUYERS

1. Rowley's as Agent
Rowley's act only as agent for the Seller and makes no representation and gives no warranty as to the authenticity, merchantability or otherwise of any Lot.

2. The Buyer
(a) The Buyer shall be the person making the highest bid which is acceptable to the auctioneer as signified by the fall of the hammer.

(b) Rowley's has sole discretion to decide whether a bid has been made, whether there has been a dispute as to the bidding and to settle any dispute.

(c) Every bidder shall, if requited by Rowley's complete a registration form and furnish Rowley's with suitable references before bidding at the auction.

(d) Every bidder acts as principal

3. Buyer's premium
The Buyer of any Lot shall pay Rowley's a premium equal to 19 per cent of the hammer price plus VAT at the standard rate for any item purchased at Auction. The Buyer acknowledges that Rowley's may also receive commission from the Seller. The Buyer shall not make any deduction in respect of the Purchase Price, nor sell, transfer or otherwise contract to dispose of any Lot prior to payment of the Purchase Price.

3 (A) Online Bidding
Rowley's offer an online bidding service via the-saleroom.com for bidders who cannot attend the sale.
In completing the bidder registration on www.the-saleroom.com and providing your credit card details and unless alternative arrangements are agreed with Rowley's:
1. Authorise Rowley's, if they so wish, to charge the credit card given in part or full payment, including all fees, for items successfully purchased in the auction via the-saleroom.com, and
2. Confirm that you are authorized to provide these credit card details to Rowley's through www.the-saleroom.com and agree that Rowley's are entitled to ship the goods to the card holder address provided in fulfilment of the sale.

Please note that any lots purchased via the-saleroom.com live auction service will be subject to an additional 3% commission charge +VAT at the rate imposed on the hammer price.

4. Value Added Tax
Lots on which VAT is payable by the Buyer are indicated in the catalogue with a dagger (†). VAT is payable at the rates prevailing on the day of the auction. VAT may be refundable in certain circumstances where the lot is removed from the United Kingdom.

5. Payment and Risk
A. At the fall of the hammer

(1)The buyer shall give to Rowley's his name and address and such proportion of the Purchase Price as Rowley's shall require.

(2)The risk of loss or damage to the Lot shall become the full responsibility of the Buyer, notwithstanding that title may not yet have been passed to the Buyer.

B. Legal and beneficial ownership of a lot shall not pass to the Buyer until payment for the Lot along with any interest or other sums that may be outstanding on any account is received in cleared funds by Rowley's and Rowley's will be entitled to a lien on any Lot sold to the Buyer until these amounts are paid in full.

C. In any event full payment of the Purchase Price must be received by Rowley's within 48 hours of the sale ("Due Date")

D. Methods of Payment:

a. Cash in Sterling

b. Cheques in Sterling supported by suitable cheque card or UK bankers draft in Sterling made payable to "Rowley's. Cheques drawn on a foreign bank attract a transaction charge.

c. Credit cards. If you wish to pay for any purchase with a MasterCard, Visa, Access or Eurocard you must present the card in person at the auction, or within 48 hours or the auction. All transactions of this nature may require the credit card slip to be signed in front of a member of Rowley's staff and must be supported with additional identification. All charges are subject to acceptance by Rowley's and by MasterCard, Visa, Access or Eurocard, as the case may be. If a charge is not approved, you will nevertheless be liable to Rowley's for all sums incurred by you. MasterCard, Visa, Access and Eurocard credit cards are accepted only subject to an additional charge of 2.00%.

d. Debit Cards. We accept Switch, Delta, Solo and Electra You must present the card in person at the auction, or within 48 hours of the auction. Transactions of this nature may require the debit card slip to be signed in front of a member of Rowley's staff and must be supported with additional identification.

e. Bank transfers in Sterling should be made payable to the account of "Rowley Fine Art Auctioneers & Valuers Ltd., Barclays Bank PLC, 58 High Street, Newmarket, Suffolk CB8 8NH, sort code 20-60-38, account number: 00956929", IBAN: GB78 BARC 20603800956929, SWIFTBIC: BARCGB22. Please note that overseas bank transfer attract an £8 fee.


6. Collection of Purchases
A. No Lot may be removed during an auction, nor may any Lot be removed until the purchase price has been paid in full. However, buyers will be entitled to inspect any Lot after the fall of the hammer subject to it being removed to a safe and secure location by Rowley's immediately following sale.

B. The Buyer shall remove from Rowley's premises at his expense any Lot purchased by him within 48 hours of the sale.

C. The Buyer will be responsible for any removal, storage and insurance charges if a Lot is not removed in accordance with Condition 6 (B) above, but nothing in this clause constitutes any representation by Rowley's that it will maintain insurance in respect of any such Lot.

D. Rowley's will not be liable for any damage caused to any Lot after the fall of the hammer.

E. The Buyer is responsible for arranging all packing and transportation. Rowley's may from time to time recommend transporters, packers or shippers but any such recommendation is given without liability and Rowley's shall not be liable for any loss or damage to any Lot howsoever caused.

F. Collection by agents. If an agent or carrier is collecting goods on behalf of the buyer they must produce either a written authority from the buyer or a receipted Rowley's invoice for the Lot/s.

7. Remedies for non-payment or failure to collect purchases
In the event that a buyer fails to pay for or collect a Lot, Rowley's may at it's absolute discretion and without prejudice to any other rights or remedies it may have, be entitled to exercise one or more of the following rights or remedies:
A. Issue proceedings against a Buyer for breach of contract together with cost of any proceedings on a full indemnity basis.
B. To rescind the sale of that or any other Lots sold to the Buyer at the same or any other auction.
C. To re-sell the Lot of cause it to be resold by public sale or private treaty. Any deficiency in the purchase price resulting from any such re-sale, together with any costs incurred in connection with the Lot, shall be paid to Rowley's by the original Buyer and any surplus after deduction of costs and charges shall be due to the original Buyer.
D. To charge interest on any outstanding monies at the rate of 1.5% per month or part thereof to the extent they remain unpaid for more than 48 hours from the date of the sale.

Lots purchased can be cleared from Tattersalls sale ring on the day of the sale or collected from our office premises at 8 Downham Road, Ely from the Thursday after the sale.

8. Condition of Lots
A. All catalogue descriptions, verbal descriptions and advertisements for sales concerning attribution, genuineness, authorship, origin, period, date, age, provenance, quality, condition or estimated selling price are statements of opinion only and are not to be taken as statements or representations of fact not the basis for any warranty or guarantee. Many Lots will be of an age that precludes them being in perfect condition and purchasers should satisfy themselves as to the condition of any Lot by examining that Lot before the auction.

B. All conditions, warranties, terms, undertakings and obligations implied by statute, common law, custom, trade usage or otherwise (including, without prejudice to the generality of the foregoing, any express or implied condition, warranty or undertaking as to correspondence of the goods with any contract description given, merchantable quality or fitness for any particular purpose) are hereby wholly excluded. If the Buyer deals as a consumer as defined by Section 12 of the Unfair Contract Terms Act 1977 and the Unfair Terms in Consumer Contract Regulations 1994 the above provision shall not apply insofar as they purport to affect the Buyer's statutory rights under the Sale of Goods Act 1979 as amended.

C. Jewellery: Historically many gem stones have been subject to a variety of treatments to enhance their appearance. Treatments such as heat treatment, treatment with oils or resin, staining, irradiation or coating may have been used on most gem stones. Some treatments may be permanent whilst others may need special care or re-treatment over the years to retain their appearance. Prospective buyers should be aware that Rowley's pre-sale estimates assume that gem stones may have been subjected to such treatments.



D. Clocks & Watches: As is to be expected with clocks and watches, particularly those of some age, it is likely that they will have been repaired and parts may have been replaced. As stated above, all lots including those comprising clocks and watches are sold on an "as is" basis, subject to all faults, imperfections and errors of description. This means that no guarantee is given that any clock or watch reliably, if at all.

9. Commission Bids
A. All intending Buyers are advised to attend the auction. Where circumstances do not permit this, Rowley's will, if instructed in writing not less that 48 hours in advance of the auction, execute bids on behalf of intending buyers but Rowley's it's employees or agents, will not be liable to the Buyer or the Seller for any neglect or default in so doing or for failure to do so. Any instructions so given shall be deemed to be irrevocable unless agreed otherwise by Rowley's at any time prior to the auction.

B. Commission bids will be dealt with in strict order of receipt. Therefore when two or more bids of the same amount for the same Lot are received, the first commission received shall be the Buyer if the bid is successful.

10. Electrical and mechanical goods
A seller who consigns electrical and mechanical goods to Rowley's warrants and undertakes to Rowley's and to the Buyer that at the date on which the goods are consigned to Rowley's they are safe if used for the purpose for which they were designed and free from any defect not obvious on external inspection which could be dangerous to human life or health and will indemnify Rowley's , it's employees and agents, against any loss or damage suffered by any of them due to the breach of the above warranty and undertaking.

11. Photographs
The Buyer gives Rowley's the absolute right to use any photographs or illustrations of any Lots at any time and in any way at Rowley's discretion whether or not in connection with any auction. The copyright in all illustrations and written matter relations to Lots remains at all times the absolute property of Rowley's.

12. Buyer's VAT status
Where the Buyer is a VAT registered person or business then prior to the auction all relevant information regarding VAT status must be given to Rowley's which the Buyer warrants will be correct. Once a Lot has been purchased on the basis of this information no alteration affecting liability to VAT can be made.

GENERAL CONDITIONS
1. Rowley's has absolute discretion to refuse any bid, to determine the advance of the bidding, to divide or split any Lot, to combine any amount of Lots and to cancel the sale without giving any reason and without previous notice.

2. Each Lot is put up for sale subject to any reserve price put on it. Where there is no reserve price (but not otherwise) the seller has the right to bid either personally or y any one person who may be the auctioneer.

3. Rowley's disclaim responsibility for any default by the Seller for whom it acts as agent. Neither the seller no any person in the employment of Rowley's, makes or has the authority to make any representation of fact nor to give any warranty.

4. .Rowley's have the absolute right to refuse any person admission to it's premises or attendance to its auctions.

5. These Condition of Business are governed by and shall be construed in accordance with English law and all parties concerned hereby submit to the non exclusive jurisdiction of the English courts.

6. In the event of a sale by private treaty both the Seller and Buyer agree to be bound by these Conditions of Business or
7. any other special condition of business. Rowley's hereby excludes itself from all liability, express or implied, in relation to such a sale, to the fullest extent permitted by law.

8. In these Condition of Business and in any catalogue caused to be published by Rowley's the following words and expression have the following meanings:
a. "Rowley's" Rowley's Fine Art Auctioneers & Valuers Ltd.

b. "Lot" any items consigned to Rowley's with a view to being sold by auction by Rowley's, and in particular any item described against a Lot number in any catalogue.

c. "Hammer Price" the price at which a Lot is knocked down to a Buyer.

d. "Purchase Price" the Hammer Price plus premium, chargeable VAT and any additional charges and expenses due from a defaulting Buyer.

e. "Forgery" a Lot made or substantially made with the intention to deceive as to authorship, origin, age, date or period which is not show as such in the catalogue and which at the date of the sale had a value materially less than it would have had if it had been in accordance with catalogue description, the burden of proof of forgery upon the Buyer.

8. In accordance with long standing practice a work catalogued with the full name(s) or recognised designation of an artist (sculptor or author), without any qualifications is in our opinion a work by the artist (sculptor or author). In other instances the following expressions with the following meanings are used:

A. "Attributed to" In our opinion a work of the period of the artist which may be in whole or in part the work of the artist.

B. "Circle of ..." In our opinion a work from the period of the artist and showing his influence.

C. "Follower of…" In our opinion the work executed in the style of the artist.

D. "Manner of " In our opinion a work executed in the style of the artist but of a later date.

E. " After.." In our opinion a copy (of any date) after a work by the artist..

F. "School.." A work catalogued as 'School' accompanied by the name of a place or country and a date means that in our opinion the work was executed at that time and in the location, eg. ENGLISH SCHOOL (19th century).

G. "Signed/inscribed/dated.." In our opinion the work has been signed, dated or inscribed by the artist.

H. "Bears/with signature, inscription, date.." In our opinion the signature/inscription/date are not by the hand of the named artist.

I. "Surname only" In our opinion a work of the school or by one of the followers of the artist..

J. "*" The symbol indicates that the conventional term in this glossary does not apply but in our opinion the work is by the artist named.

K. "?" The addition of a question mark (?) after any of the above cataloguing terms indicates an element of doubt.

L. All references to signatures, inscriptions and dates refer to the present state of the work, ie. As at the time of inspection of the purpose of cataloguing.

M. All works are measure top to bottom first in all instances.

13. Data Protection
Rowley's will use information provided by its clients or obtained by Rowley's relating to its clients for the provision of auction and art-related services, market and to manage and operate its business, or as required by law. Rowley's may wish to record and video images of you and or telephone conversations for security or legal reasons or as necessary to provide a higher quality of service. Clients agree that Rowley's may use any sensitive information that they supply to Rowley's. Unless permitted by law, Rowley's will not otherwise process sensitive personal data without express consent. By agreeing to these Conditions of Business, clients agree to the processing of their personal information.

14. Export licensing regulations
Buyers should always check whether an export licence is required before exporting certain items. For further information regarding export licences please contact: The Department of Culture, Media & Sports, 2-4 Cockspur Street, London, SW1Y 5DH. Telephone 0207 211 6200.

15. Artist Resale Rights Regulations 2006
On certain Lots, which will be marked "AR" in the Catalogue and which are sold for a Hammer Price (together with Buyer's Premium) of Euro 1,000 or greater (converted into currency of sale using the European Central Bank Reference rate prevailing on the date of the sale), the additional premium will be payable to us by the Buyer to cover our expenses relating to the payment of royalties under the Artist Resale Right Regulations 2006. For further information please consult a member of staff.

Delivery

Postage and Packaging
Rowley's only offer a very limited packing and shipping service for smaller items (non fragile). This service is at Rowley's discretion and can take up to 4 weeks from request to delivery. Rowley's charge a flat fee of £10 + VAT on top of the actual cost for this service and it is operated on a first come, first served basis. Purchasers through the-saleroom.com can obtain postage and shipping quotes through the-saleroom.com prior to the sale. These items are usually collected from Rowley's 5 days after the sale providing the invoice has been settled. For those purchasers not buying through the-saleroom.com we highly recommend successful purchasers use the services of reputable professional carriers for packing who will provide prompt quotations and collection from Rowley's for cartage to national and international locations. We recommend:

Mail Boxes Etc
23 King Street, Cambrige CB1 1AH
Email: info@mbecambridge.com
Telephone +44 (0) 1223 361601
www.mbe.uk.com

Alban Shipping
Unit 4, Premier Business Park, Dencora Way, Luton, Bedfordshire LU3 3HP
Telphone + 44(0) 1582 493099
Fax: +44 (0) 1582 490147
www.albanshipping.co.uk

Jentel Packing
(Services across Essex, London, Suffolk, Kent, Surrey, Sussex)
Telephone: 01268 776777
Email: enquiries@jentelpacking.co.uk

For local carriers please contact us for details.


Buyer's Premium 21% inclusive of VAT

Shipping:
Rowley's are able to assist purchasers of lots in our auctions to receive their goods as quickly as possible via an independent courier service. Your purchased lots can be wrapped, packed and on their way to you within hours of receiving instructions from you. For further information, please contact Roddy Lloyd at Rowley's Auctioneers.